I grew up in the Midwest, so I was bred to love the look of fresh snow, whether it's clinging to branches in woods thick with evergreens or blanketing the rooftops of a city burgeoning with Christmas. And to this day, few things leave me as awestruck as the sight of snow falling from a dark sky.
But let me be clear: I miss snow and the cold weather it requires for precisely 17.2 minutes of every December, and then I remember driving in it and hassling with coats and gloves and water-resistant footwear, and glory be, I am over it. I know some of you love the cold and the snow, and rightly so, but my lack of long-term affection for them is one of the reasons why I belong in the South.
But because of those 17.2 minutes, whenever we head north during the colder months, part of me hopes there will at least be a little snow on the ground when we arrive. What I don't hope for, however, is the harrowing drive we had through fast-falling snow in Ohio and Michigan a few weeks ago on our way to visit family for Thanksgiving (yes, we repeated last year's Thanksgiving adventures) and to spend time in downtown Chicago. Once we'd arrived and the snow had settled, however, it was beautiful to enjoy.
On our first day in Chicago, we walked down to the Loop, stopping first at Millennium Park to check out The Bean and the ice skating. Then, we crossed the street and toured the Art Institute of Chicago.
Can I just be honest here? It's possible that our kids might someday thank us for the cultural experience that the Art Institute offers, but that thank-laden day probably won't be any time in the next decade or two. The Museum of Science and Industry that we visited on two or three occasions, they get. American Gothic? Not so much.
They were polite enough about the whole thing if you discount the intermittent, under-his-breath murmurings from one of our progenies that sounded much like "The horror, the horror!" and lasted for our visit's duration. (See Conrad's Heart of Darkness for further illumination.) Oh, and if you choose not to assign meaning to the fact that all three broke into a guarded sprint when we mentioned we were ready to leave, it was all good. This did not take away from the parental enjoyment of the visit. Okay, it totally, totally did, but we're still glad we went in much the same way that I imagine victors are glad after a battle that reduces their troops by 83%.
Then, we walked over to State Street to see the Marshall Field's Christmas window displays. Yes, I have noticed that some years ago Macy's bought out Marshall Field and Company in the technical sense, but we all know its official name for over 150 years lives on.
The Tiffany ceiling alone is worth seeing,
and of course the store is decked in all its Christmas finery.
We did a little shopping, which basically means the kids spent an hour trying out new gadgets at the Brain Store while I tried to decide whether or not to buy a pound of Frango chocolates. I went back and forth over whether to buy the entire pound in dark chocolate or whether to buy a combination box. Then, I calculated out exactly how much of a better deal the pound quantity was than the other smaller-sized options (Because what says fun family vacation to an English teacher more than a series of in-your-head math calculations?) to determine whether another size might be more appropriate. Then, after all that retail drama, I decided not to buy any at all.
There was time well spent.
It was dark by the time we left the store, so we headed back to our hotel to recuperate from a long, hard day of recreating ourselves. Knowing we'd need our strength for another grueling day ahead of us, later that night we headed out once again and refueled ourselves with Chicago steaks.
The next day, after squeezing in a little work with the Chicago skyline as a backdrop, LCB and I headed back to Marshall Fields and ate lunch at the famous Walnut Room.
For those of you unfamiliar with the Windy City, the Walnut Room is legendary, offering sophisticated sustenance to weary shoppers.
We sat at the foot of the Christmas tree,
and feasted unfettered by cries of "Mom, he's kicking me under the table!" and "Dad, can we go yet?" It was both eerie and glorious.
In the evening, we headed out to see the play Sherlock Holmes at the Oriental Theater.
On the way, we saw the ABC Chicago evening news live. Gosh, I miss the live-and-on-location feel of a big city sometimes.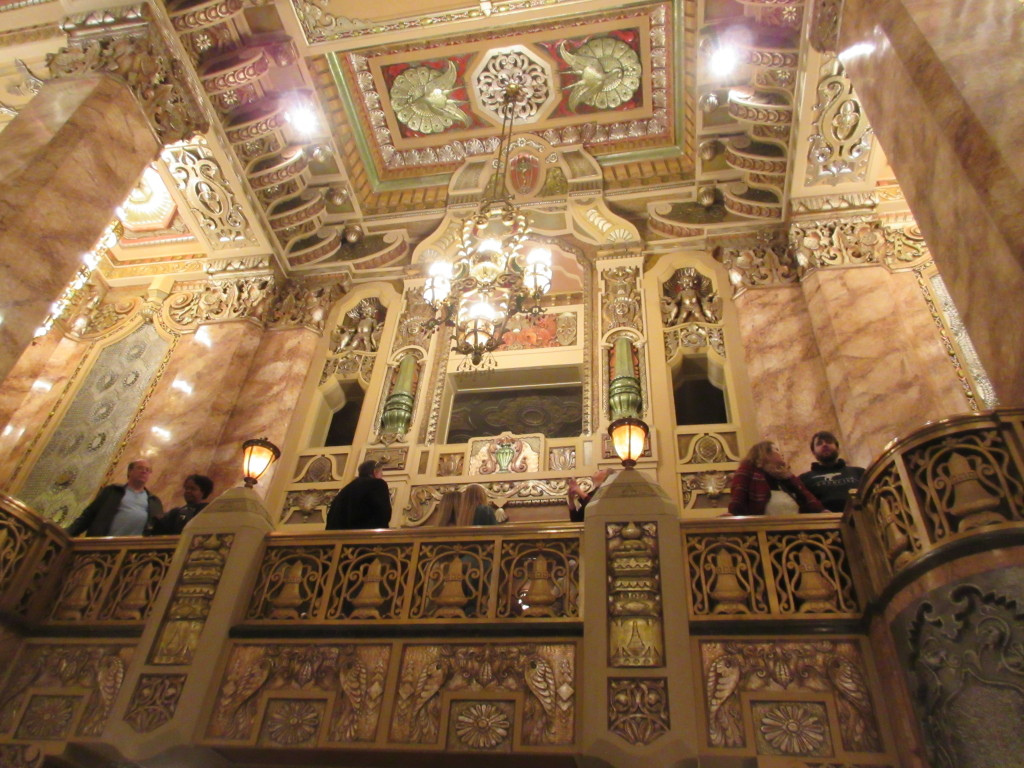 While my college theater professor made me forever partial to black box theater, the ornate style of the Oriental Theater provided much fodder for discussion.
But how do I comment on the play itself? Clearly, the production's goals were lofty and their efforts were valiant, so my hat's tipped for that. But I think Chris Jones of the Chicago Tribune said it best: "It wants so badly to be cool, it ends up being nothing at all." I was a bit disappointed, as we had built this up as a special event for the kids, but they still enjoyed the glamour of both the theater building and the production.
The snow had already melted by the time we left the next day to head back toward our island. We stopped first in mainland Carolina for some Thanksgiving dinner with family. The air grew warmer, sweeter, and saltier as we continued on toward the coast. And as we finally crossed our bridge late that night, we entered an island whose live oak and palm tree branches have so rarely seen snow. But the lights were up on many of the trees that followed our crossing, the soft whites wound around thick trunks and woven into branches of varying shapes and sizes. Our entrance onto the island was so different from our entrance into the city a few days earlier. But for half a second, I could almost imagine the tiny lights in the highest of the trees were like snow falling from a dark sky.